About the company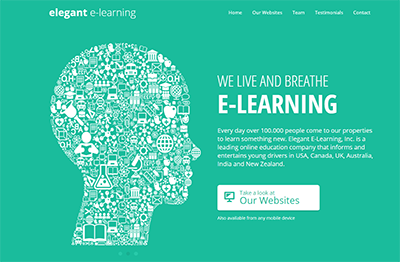 BarPrepHero.com is a part of Elegant E-Learning, Inc., a ten-year old company with a proven track record of revolutionizing online education and providing free online resources. BarPrepHero.com is part of a plan to do the same for bar exam preparation by making MBE practice questions written by experts available to anyone who wants to study.
About our authors
Our authors have significant experience in both legal and academic writing. Prior to creating our MBE prep tests, they had written hundreds of memoranda of law and appellate briefs (filed in the state and federal courts). One of them has a Juris Doctor degree and had written numerous law courses for two paralegal home study schools. Another one — a monograph called "Introduction to the Legal System" which is being used as an introductory text for paralegal students. Another one of our authors is a licensed attorney in Washington who has won a national award for legal writing recognized by a US Congressman and the governor of the state of Florida.
About our tests
We piloted our first test for several months in 2012 with a group of recent test takers and got a lot of fantastic user feedback on the things that could be improved.
Now, 10 practice tests later, we have a full time consultant and keep improving the quality of our MBE preparation tests by reviewing every case of user feedback we receive (via the 'Found a mistake?' link at the bottom of every set of answer options).
Every time a test is restarted, the system shuffles the order of questions AND answers.
If you're not sure about the correct answer, there is a hint for every question. Instant feedback (explanation of the correct answer) is available if you make a mistake. There's also a Review Mode which allows question-by-question review of all questions and answers. Most of our recent tests also contain a direct reference to the relevant case, for example "See Zilg v. Prentice-Hall, Inc., 717 F.2d 671 (2d Cir.1983), cert. denied, 466 U.S. 938, 104 S.Ct. 1911, 80 L.Ed.2d 460 (1984)"
All the practice tests are free, no registration or login required.
The practice tests can also be accessed using a smartphone or tablet.
About quality control and updates
Once a test is ready, we fact-check it several times before uploading to the site, to ensure there are no errors. Additionally, once available publically, each question has a button for reporting any issues, and we encourage and appreciate feedback from test-takers, professors, librarians, or any other parties. We're always happy to open a dialogue and correct any concern in a timely manner.
If you ever have a question about the legitimacy or transparency of our tests, our writing process, or any other aspect of BarPrepHero.com, please don't hesitate to ask. We're dedicated to safety, and we want to be able to provide any answers that you should ever need.
Our Mailing Address
Elegant E-Learning, Inc.,
1466 Limeridge Road East, Hamilton, ON,
CA L8W3J9,
Telephone: 1-888-392-2170